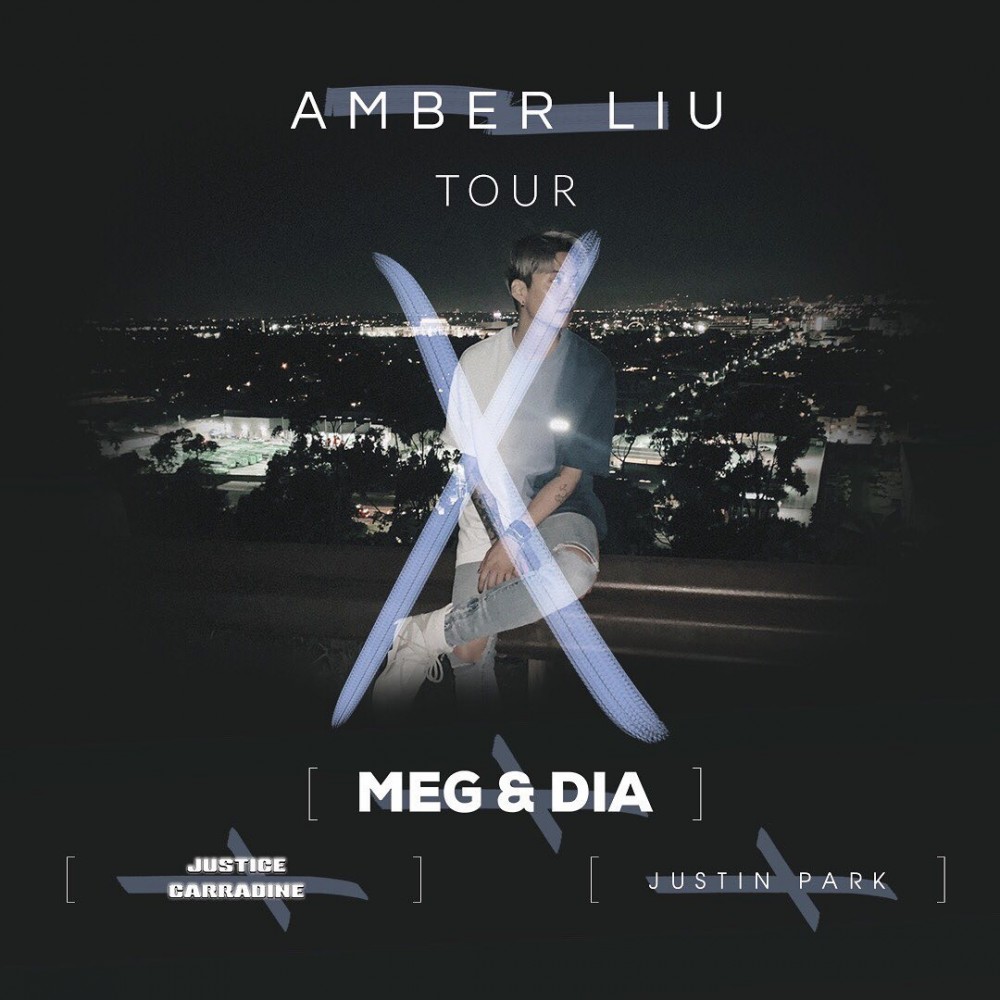 After attending one concert with an artist, sometimes the second time isn't as memorable as the first. That was not the case when I attended Amber's second concert in Chicago, on her second tour X.
In 2018, I happened to attend her Gone Rouge tour, and it was the most fun I've had at any concert I've ever attended.
As it was in December 2018, Amber maintains the same charm, humor, and charisma, handling the stage as a single entertainer very well. This time, though, Amber shared more intimate details about her music career and exhibited more of an "artistic maturity".
Gone are the days of her "cookie-cutter" Kpop image, though thankfully Amber was never really "cookie-cutter" to begin with.
This is truly a new chapter in Amber's life as this tour is the beginning of her new music career after leaving SM Entertainment September 2019.
"X" was certainly a come-up since her last tour when it came to venues. Last time, the venue was at Park West way over in Lincoln Park somewhere, with little nightlife, few desirable restaurants open, and few to little close parking. This time, the venue was at the House of Blues (which regrettably I haven't been since 2009 when I went to see Utada Hikaru), centered in the heart of downtown Chicago, surrounded by nightlife, fabulous restaurants, and plenty of comfortable commodities for people who dislike inconvenient wait times (such as food and water). Amber is either coming up fast, with a music label and company that actually values her as an artist, or the House of Blues is starting to understand the Kpop hype. It may be a little bit of everything.
This time, I was able to nab me not just one VIP package, but two! (Take that 2018!). It felt great not to have to wait outside in the cold before the concert. The "Meet and Greet" package was attached, and that began several hours before the concert. I received my badge, my cute little travel back, and headed into a surprisingly long line. Couldn't expect any less.
So, there's never an easy road for me when it comes to day-to-day travel. Curse my Saturn in the 3rd house. To add, the last time I was at this venue, there was a security issue. This time, I thought I was prepared. I had lightened my granny purse and replaced it with a Kingdom Hearts bag. I assisted my sis in emptying out her huge purse in favor of a Dragon Ball Z drawstring sack as well.
Unfortunately, when were getting scanned and bag-checked, we were informed we weren't allowed to bring "backpacks" into the room, aka "drawstring sacks". I found that completely odd considering one of the "VIP" perks was a travel bag, aka "drawstring sack"…but any way…
My sis had to check her bag, which cost $2.00. Your girl here doesn't carry cash, not in the city, because I don't want any robberies to feel like I've lost everything. So, my sis was looking at me mortified. Would she have to miss out on the "Meet and Greet"? All because she didn't have cash to put this bag up?
It would've been nice for the House of Blues to tell us we couldn't bring those kind of sacks in to begin with. Perhaps I should've called ahead of time. Still, reaching the House of Blues by phone is one the most difficult challenges in the world.
Fortunately, we had a nice woman checking bags. She gave my sis a ticket and checked her bag without having to pay. Thank goodness. Hopefully, she doesn't get in trouble for her kindness.
So my sister had to keep up with this ridiculous ticket. Ugh. After body scans and feels, we were allowed inside. I get it. We have to keep people safe, and more importantly Amber safe. Moving along.
We moved inside, and it appeared as if a few people were allowed to enter before everybody else. They were already crowding the front of the stage. I was like, damn, I'ma be at the back again. Thankfully, it didn't turn out that drastic…I was in the center.
At first, I thought they were the "Meet and Greet" group, and my sis and I stood there a good 3 minutes before we realized some nice fans were waving us down so we could line up with the RIGHT group. How embarrassing, but I'm grateful.
The line was snaking around the venue. I knew I should have come hours earlier, but I feared having to wait outside in the cold like in 2018 AND having to stand a long time (as well as stand the whole night for the concert, since it was standing-room only).
Still, it was all well worth it. While in line, we passed a nice little merch stand filled with shirts and caps (including a shirt of cute little Jack Jack). I wanted to buy everything, but decided I wouldn't lose my place in line for that. I came here to meet and greet Amber Liu, and meet and greet I shall.
While standing in line, I met a nice friend who became a buddy to my sis and I throughout the concert. She wanted to stand in line but didn't want to miss her opportunity to get Amber merch. We were contemplating the same thing just a few moments ago, so I sympathized. She asked if we could keep her place in line while she bought merch. We did. It's just the kind of nice thing Amber fans should do. When she came back, we were just a tad bit further along, so we let her come in front. She was grateful for that, and we became buddies ever since.
We started getting into a passionate discussion about Naruto, how we just don't get Sasuke and Sakura, nor Naruto and Hinada, and really don't care for Baruto. You know, anime stuff. We also spoke about Kpop events in between all of that and hoped Amber was ok amidst all of that.
All of that discussion, and we barely realized the line had been moving. Next thing we knew, we were nearly standing face-to-face with the girl.
My sis, our new buddy, and myself became a brand-name trio. This all happened because when I saw my buddy's gift, I thought it was a CD. So did everyone else. Instead it was a cute little picture of Amber in her purple hair. She worried that it would be outdated, considering Amber's hair has changed. Honestly, at least she brought something. I came with me and my sis and nothing else. I felt like a cheap ass fan, no lie, especially considering my Versace glasses were pointed out. Yes, I do have name-brand glasses, but it isn't because I'm rich. My sis's "Steve Madden" hat was also pointed out. Man, we're scum. My new buddy was named Neiman Marcus (since her boots were of that brand), but she wasn't as much scum as we were because she actually brought something generously.
All of my guilt melted away as soon as it was my turn to greet Amber. I was met with a very warm hug. I asked if it was okay for my sis and I to be in a picture, and it was good. We're twins, so I warned her we were "double trouble". She looked confused for a moment, but our pictures turned out adorkable. We threw up some fake gang signs. Whatever.
Then my buddy spoke up about my Versace glasses. Amber was like, "Versace? Where?" Awkwardly, I had to regrettably tell Amber, "Oh nothing, just my glasses". She looked confused, but I panicked and changed the subject quickly. I knew everyone else needed a picture, right? We can change the subject, the fact that I came empty-handed while all of her other adoring fans were doting upon the star. What kind of fan am I?
Amber had her dancers and others with her assisting her all the way. I was like, "These guys need tips". I reached in my pockets and remembered I didn't bring cash. DAMN. I still owe those boys tips. I wonder if they have social media and P.O. boxes. One guy was like, "My kind of girl". See? It's the people in the background who need the support, too. They help to keep the show going strong. Now, if only I'd delivered instead of opening my trap.
Anywho, after such an eventful "meet and greet", I returned back to actually buy $50 worth of merch (with no regrets, I'll pay it down later). We stood on the floor for a good hour and 30 minutes. I guess we all thought the concert was going to start at 7 pm. Made that mistake again, just like in 2018. That's when the doors opened. So we fans were just standing around getting to know each other.
I met some other nice women who were around my age. I'm approaching 30, and gracefully I might add. I still look like I'm 12 to some people. It was nice to know I wasn't the only old Millennial there.
But the crowd was getting restless and impatient. I don't think we expected to have to wait this long to see Amber perform.
Finally, when the "concert" began, opening up was a handsome young guy named Justice Carradine, social media star and vocalist. His rugged all-American boy-next-door appeal had many girls swooning. It was a good distraction for the crowd, though maybe I was too old to feel safe enough to say he was cute. The boy was just 20. Eh, legal kink, right?
Included in his set were the songs:
He also performed other songs, but I can't find them on Youtube. When they become available, I'll post them.
Next on the stage came an underground indie-rock sister duo named Meg & Dia, and I was sold. I love rock bands, especially when females are in the lead. They had a vibe about them that I dug hard.
Apparently, this group has been around since 2005, and they had just reunited in 2019 after disbanding many years ago, so basically we were all watching a golden moment for Meg & Dia. A reunion tour and Amber Liu? It was great.
Their set-list included:
Finally, all lights blacked out and a vocal recording from Amber was heard behind a colorful curtain. The recording highlighted her journey, her 10-year career, in one simple paragraph. She spoke about how she's had some beautiful moments but also made some mistakes. She spoke about getting through it all to get to this point. It was a powerful intro and one I can't forget…Especially because a big Jesus statue sat at the top of the stage while I lifted my head to listen to the message.
When the curtain was lifted, an upbeat woman with cropped red hair and a flashy gold sporty outfit appeared onstage to bring smiles, laughter, and heart-felt tears once more. She re-introduced her "Be Yourself" zone to the crowd, which was a delight to hear once more.
Amber's set list included some Rogue Rouge favorites, songs from her first album Beautiful, some side projects, and the new X songs, so it was a complete concert. I was excited to hear all of my favorites. The only songs missing from this set that I remember from 2018 were "I Just Wanna" and "On My Own". Still, everything else more than made up for it.
"Countdown"
"White Noise"
"Lost At Sea"
I don't remember her singing this song in Chicago. I believe she sang it in San Francisco. I've seen footage of it elsewhere.
"Borders"
Amber's borders appeared to have had an extra verse added in the live performance. Was it just me? Hm.
"Get Over It"
Amber stated that this song was dedicated to a certain group of people, more than likely people from her former company, who said "no one wants to hear" the type of music she wants to create. Obviously, her former company was surrounded by a completely different culture, and they honestly don't understand what Amber's fans want to hear from her. Here, in the USA, we want to hear real genuine artistry, not just some empty pop bops. Amber is capable of delivering all of that. They certainly missed out.
Amber made the performance of this really hilarious because she took a girl's alligator hat from the audience and performed with it. However, the girl asked for her hat back. Wow.
"Three Million Years"
"Get Myself"
"Beautiful"
"Need to Feel Needed"
Amber finally sang "Shake that Brass" in English! I loved it. I remember she sang it at the SimpleLife Concert back in 2019, but it was nice to hear it up close and in person.
"Hands Behind My Back"
"Other People"
"Curiosity"
"Numb"
"Ready for the Ride"
This song was about others getting involved in a relationship between two other people, without understanding it. Amber stated that "people should just let people love who they love."
"Stay Calm"
And finally, Amber Liu sang a cover of "Frozen" with her complete costume and all!
It appears in some locations, she sang a cover of Pokemon's Opening Theme. I'm really jealous of those concert-goers.
At the end of the concert, all of us "VIP" who were 21 years and older were invited to an after-party on the 4th floor. Needless to say, they forgot to give me a wrist band (probably thought I was 12). I still made it inside, but I found there to be a bunch of strange-looking entertainers and a few posers. Worst of all, no Amber. I left and got me some munchies.
Amber Liu really delivered once more. Check her out on her tour across the USA. This time, she's visiting many more new cities! There's still time, so purchase your tickets before time runs out!
Check out her tour dates at amberliuofficial.com!